As far as our country is, as diverse are your possibilities to discover the World Heritage Region in its entirety. Benefit from your personal guest card WelterbeCard and experience our impressive vacation region – now new with comprehensive tour planner for your individual travel planning.
Unforgettable 3 day tours
The most beautiful places in our region
You can purchase the World HeritageCard at many tourist information offices as well as other sales points in the area of the World Heritage Region Anhalt-Dessau-Wittenberg. Below is a listing of the points of sale.
Questions about the WelterbeCard?
You can get the World HeritageCard in 3 variants:
as 24-hour card or 3-day card adult, child and family card (children aged 5 – 14).
24-hour-card
3-day-card
FamilyCard
24-hour-card
The 24-hour card is valid for 24 hours from the first use of a service.
Price: 24,90 €
Children Card: 12,50 €
Order online
3-day-card
FamilyCard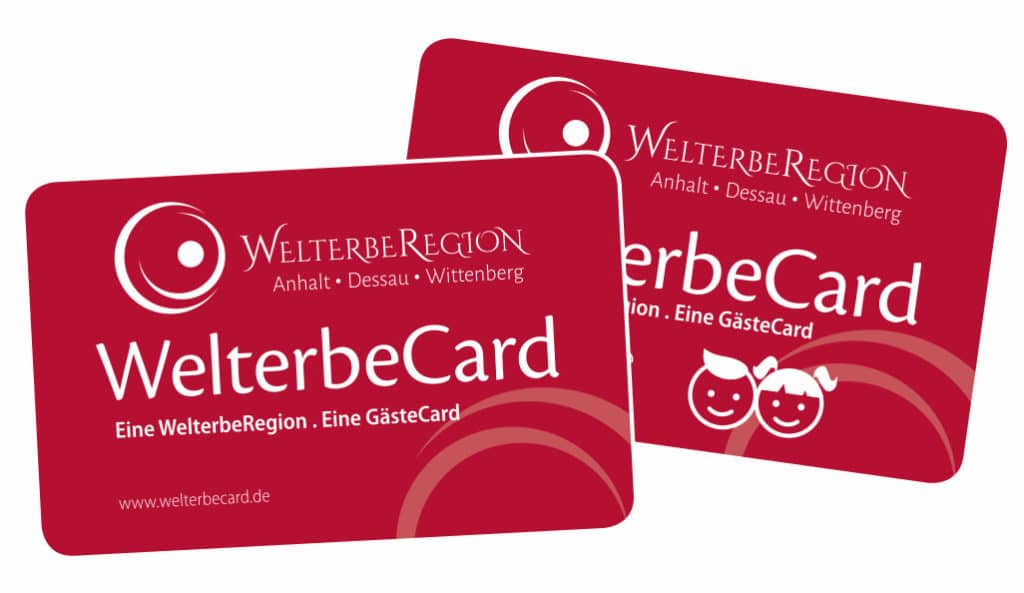 With your card you will receive a high-quality travel guide free of charge. In it you will find detailed information about all the services you can use with the World HeritageCard. You will also learn more about the cities in the World Heritage Region and receive many valuable tips for your stay.