Where can I get the World HeritageCard?
You can purchase the World Heritage Card / WelterbeCard at the local tourist information offices as well as at hotels and restaurants and leisure facilities in the area of Anhalt-Dessau-Wittenberg. A listing of all points of sale can be found below.
Alternatively, you can also order the World Heritage Card online from us here "
All points of sale at a glance
Bitterfelder Str. 42
04849 Bad Düben
Phone: 034243/ 33633
info@heidespa.de
www.heidespa.de
Kurpromenade 1
06905 Bad Schmiedeberg
Phone: 034925/ 63037
info@eisenmoorbad.de
www.eisenmoorbad.de
Bitterfeld-Wolfen (at the Goitzsche)
OT Bitterfeld
Markt 7
06749 Bitterfeld-Wolfen
Phone: 03494/
6660317

tourismus@bitterfeld-wolfen.de
www.bitterfeld-wolfen.de
Gemeinde Muldestausee (on the Goitzsche)
Ferropolisstraße 01
06773 Gräfenhainichen
Phone: 034953/ 35120
info@ferropolis.de
www.ferropolis.de
August-Bebel-Strasse 24
06773 Gräfenhainichen
Phone: 034953/ 257620
touristinformation@graefenhainichen.de
www.graefenhainichen.de
Strandweg 1
06901 Kemberg OT Bergwitz
Phone: 034921/ 28228
reception@bergwitzsee.de
www.bergwitzsee.de
Schlossplatz 5
06366 Köthen (Anhalt)
Phone: 03496/ 70099260
koethen.information@bachstadt-koethen.de
www.bachstadt-koethen.de
Trinumer Weg 4
06386 Osternienburger Land
Phone: 03496/ 510396
paschlewwer@freizeit-ferienhof.de
Questions about the WelterbeCard?
You can get the World Heritage Card / WelterbeCard in 3 variants:
as 24-hour card or 3-day card adult, child and family card (children aged 5 – 14).
24-hour-card
3-day-card
FamilyCard
24-hour-card
The 24-hour card is valid for 24 hours from the first use of a service.
Price: 24,90 €
Children Card: 12,50 €
Order online
3-day-card
FamilyCard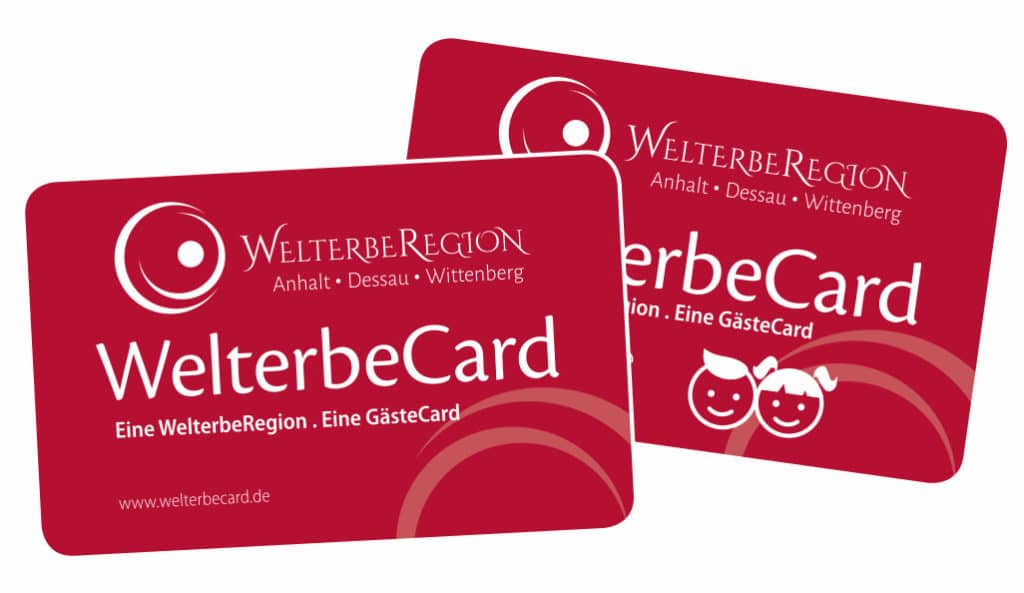 With your card you will receive a high-quality travel guide free of charge. In it you will find detailed information about all the services you can use with the World Heritage Card / WelterbeCard. You will also learn more about the cities in the World Heritage Region and receive many valuable tips for your stay.
Europaradweg R1
A journey through the diversity of Europe in the heart of Saxony-Anhalt
Berlin-Leipzig bike path / Radweg Berlin-Leipzig
From the capital Berlin to the trade fair city of Leipzig
Adventure route COAL | STEAM | LIGHT | LAKES
From the Lutherstadt Wittenberg to the Leipzeiger Neuseenland